---
Oscar Micheaux Research Papers
---
Oscar Micheaux Film and Book Festival August 4-7, 2010
---
Oscar Micheaux: A Bibliography of Materials in the UC Berkeley Library
---
SOME PHOTOS AND ILLUSTRATIONS OF MICHEAUX'S LIFE
---
"Capoeira: A Tale of Martial Arts Mastery, Mysticism and Love" by Khafra K Om-Ra-Seti
WITHIN OUR GATES (1920):
THE SILENT ERA
BODY AND SOUL (1925): THE SILENT ERA
Oscar Micheaux: The Czar of Black Hollywood (Part 1)
Oscar Micheaux Stamp Dedication Video - Halifax Community College
THE OSCAR MICHEAUX LEGACY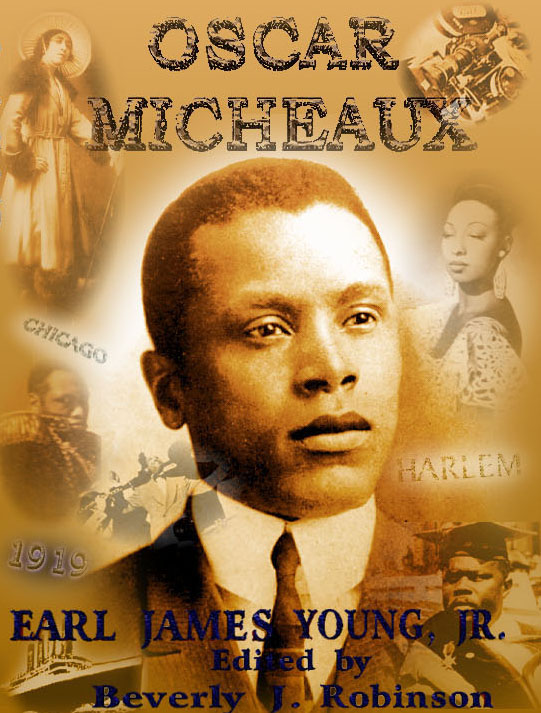 RELEASED In March 2003!
"Exciting BOOK on the life of Oscar Micheaux, the legendary Black filmmaker...(print version) $15.95."



Over a three-decade period that began in 1919, Oscar Micheaux wrote, directed, edited, produced and distributed over forty films nationally and internationally. These films usually featured all-Black casts. They spanned a silent film period (1919-1930) and a talkie period (1931-1948). Micheaux also authored over seven novels.





NOW AVAILABLE IN KINDLE VERSION....$3.99!





This book has a complete Filmography of Micheaux's films, extensive Notes, Index, Photos, Bibliography and Appendices(s).

SAMPLE READING


LISTEN TO SAMPLE AUDIO BOOK VERSION 2014




---
FEATURED OSCAR MICHEAUX FILMS: ERA OF THE TALKIES (THE BIRTH OF SOUND FILMS)
AN OSCAR MICHEAUX PRODUCTION: MURDER IN HARLEM (1935)
TEN MINUTES TO LIVE (1932) - Oscar Micheaux Film
---
AN OSCAR MICHEAUX PRODUCTION:
SWING! (1938)
LYING LIPS (1939)
---
---
THE OSCAR MICHEAUX ERA: CONTEMPORARIES AND EVENTS
THE HONOURABLE MARCUS GRAVEY - THE HISTORY OF THE U.N.I.A.
BLACK WALL STREET (THE NIGHT TULSA BURNED)
---
DUKE ELLINGTON AND HIS ORCHESTRATIONS
TRIBUTE TO JOSEPHINE BAKER
---
The Black Woman (1970) - feat. Nikki Giovanni and Lena Horne
Paul Robeson: Here I Stand Documentary
---
BOOKS WRITTEN BY OSCAR MICHEAUX
Oscar Micheaux

The Homesteader




The story of a Black pioneer's life as a South Dakota rancher. Out of loneliness, he marries the daughter of a vain Black clergyman, forsaking his true love, a Scottish woman, to avoid social stigma and trouble with the law. The marriage sours owing to interference by the hostile father-in-law. The rancher's wife goes insane and kills her father and herself. The authorities arrest the pioneer for both murders, but his first love hires detectives who prove his innocence.




Oscar Micheaux

The Conquest




This book was Oscar Micheaux's first novel. It tells the story of the aspirations and struggles of a black homesteader named Oscar Devereaux. Born on a small farm near Cairo, Illinois, one of thirteen children, Devereaux leaves home to work in the Chicago stockyards and finally graduates to the job of porter in a Pullman railway car.
OTHER RARE BOOKS BY MICHEAUX
NOLLYWOOD: AFRICAN FILM CAPITAL
| | |
| --- | --- |
| Seeing Tomorrow "Freedom" Trailer | Hidden Figures Official Trailer 1 (2017) |